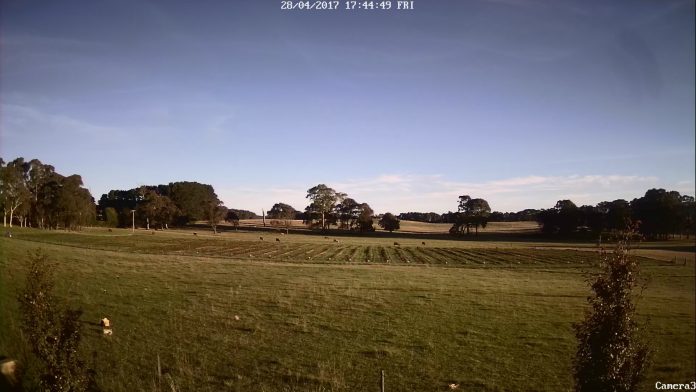 Last Updated on 20 June 2018
Running a business in a rural area (such as a farm) can in some cases mean your property is subject to crime. This is because intruders target areas with decreased density and often look to steal equipment, livestock, vegetation, etc. As a business, it's important to take all necessary steps to ensure that your assets are protected and to avoid any disturbances or disruption that unexpected situations can cause to business operations. A blueberry farm, based in NSW, recently decided to be proactive in its efforts against intruders by implementing one of our security camera systems in order to better protect and secure their property. With the business owner also moving to London, the surveillance system provided an easy way to keep an eye on the farm remotely, through the system's smartphone/tablet viewing capabilities via an app.
Installing the Security Camera System
The security camera system that the business owners chose to implement was the DVR8-4550 which is an 8 Channel 1080p Full HD Digital Video Recorder with 4x PRO-T853 Cameras. With the ability to view the farm through our SwannView Link app, the business owner was able to ensure that the farm was running smoothly from the other side of the world. If anything suspicious was to occur, they can take the necessary action such as call the police, call a friend, etc. Ben Gudex, Blueberry Farm business owner said, "Having constant, 24/7 video surveillance on the property not only provides peace of mind, but acts as a deterrent for potential burglars. I moved to the UK last year and thanks to the Swann system I am able to monitor the property from the other side of the world. If something was to occur, I'd be able to contact my business partner and the authorities [with evidence] and take the necessary action to ensure the issue was resolved."
Our products are DIY solutions that only require basic handyman skills and don't take a full day of installing – this means the business' normal operations were not affected or disturbed. These security cameras also come with infrared vision and are quite sturdy, making them the perfect fit for the farm, which is often hit by extreme conditions, whether it be heavy rain, strong winds or dry heat. The weather can often be another hurdle for the farm to overcome from a business perspective, which the surveillance system has helped to tackle. When away from the farm, the business owners are able to use the surveillance system as a way to monitor weather conditions and promptly take action if necessary.
Giving the Business Owners Peace of Mind
A business' assets are vital to its operations and theft can result in a great deal of impact, including financial and reputational. By applying CCTV to the farm, the business not only deters potential intruders, but provides peace of mind to the owners because if something were to happen, it would be caught in high definition. Ben Gudex said, "Being able to check on the farm at any time provides us with a lot more comfort and assurance that the farm is running smoothly. I'm enjoying counting on my Swann system to provide me with this capability and I can't imagine going back to not having the ability to do so. It was quite a small investment in prevention considering all the cost and headache a burglary could cause to me and my business."