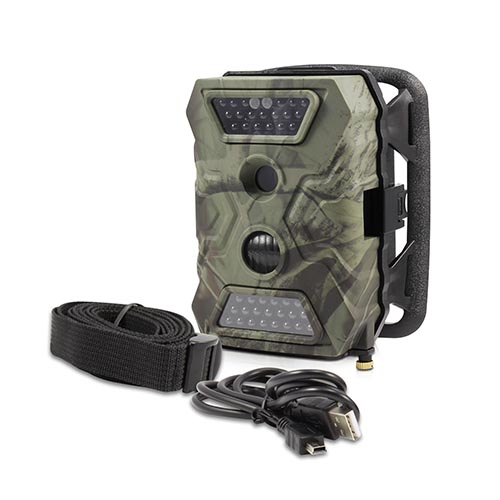 Last Updated on 26 June 2018
A Trap Camera – what on earth is one? A very good question indeed. It is a portable, motion triggered camera that captures still photographs and video, day or night. Ideal for hobbyists interested in spotting wildlife, school projects or those wishing to find which animal is digging up your back yard at night!
The Swann OutbackCam is a basic, user friendly model that's easy to set up. Battery operated, you'll need 4 AA batteries for standard use, or you can include 8 AA batteries for extended operating time. This outdoor camera has a water resistant camouflage casing, and can withstand temperatures as cold as 4 degrees F/ -20 degrees C, up to 104 degrees F/ 40 degrees C. Its' also supplied with a strap, handy to attach to a nearby tree, an SD card to store up to 32GB of footage and a USB cable.
What are the camera features? The lens is 3.6mm, records in colour during the day, black and white at night via a choice of 19 or 40 infrared LED's. The trap camera can capture stills – up to 7 shots per trigger, in 5, 8 or 12 Megapixels. Video footage records in 5MP HD quality, and both cover a 62 degree viewing angle. You can even set the record delay range between 5 seconds up to 10 minutes.
In need of more information about trap cameras? This recent review by Wild Magazine, Australia delivers an interesting article focusing on set-up for novices.
The OutbackCam is available for sale in the following countries:
Australia – OutbackCam Australia
UK – OutbackCam UK